Small balance patch for siege coming in.
Source: http://forums.ubi.co...-2-3?p=11527317
---------------------------------------
After creating a post that we will be making some tweaks to balancing in patch 2.3, and in more future patches, we were amazed with the feedback from the community. One piece of feedback that we felt was really good was providing these balancing changes in advance of the patch notes so that players have time to adjust and tweak their strategies to anticipate the changes (looking at you /u/LettuceAndTea). We agree!

Below you will find the subsection of Update 2.3's Patch Notes that includes balance changes to certain weapons and operator specific weapons.

Please note that the full list of patch notes with all of the changes and fixes in patch 2.3 will be released very soon, but this is just a glimpse at some of the balancing changes.

Please feel free to leave your feedback below.

Balancing: Operators

Frost's Super 90 Shotgun falloff damage now begins earlier
We tweaked the falloff damage of Frost's shotgun. The falloff previously started at 5 meters. It will now begin at 3.5 meters, making it roughly on par with the M1014. We have made this choice because Frost's Super 90 had too much range, making Frost too powerful alongside her Nitro Cells and Welcome Mats.

Buck's Skeleton Key's environmental destruction has been enhanced
We have designed Buck with the intention of having him be a versatile Operator that is able to go wherever he desires. We do not believe that the state he currently is in reflects this.

The initial intent was to use his underslung shotgun as a tool and not so much as a weapon. As the pros have shown us in the Pro League, it is working as a tool, but it could definitely be more efficient and useful.

Therefore, we have decided to increase the environmental destruction of Buck's underslung shotgun. As the following series of .GIFs show, it is now a better tool and will help you get where you want faster.
BUCKS SHOTGUN IS NOW SLEDGES HAMMER
He can create much larger holes with his shotgun and can vault through
Vaulting through hole After 2.3: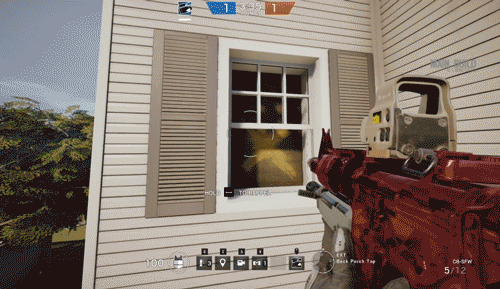 SMG-11's recoil increased
We have increased the SMG-11's recoil. The weapon was too powerful as it was, with recoil that was too easily controlled given the weapon's rate of fire. We have opted to alter it in two different ways for PC and for consoles:
For PC, we tweaked the SMG-11 in two ways: first, the weapon will not center back after a shot quite as fast as it did before. Second, the recoil will be more unpredictable now. We made that decision because we felt the recoil was too vertical, often giving easy headshots since that weapon's rate of fire is very high.
For consoles, we have increased the value for the rate at which the camera rises. We have roughly doubled that speed. What that means is that the player will have to compensate downwards more with the joystick in order to control the vertical recoil. We also applied the same tweaks to the vertical recoil as explained above for PC controls.
We have increased the SMG-11's recoil for 2 reasons: the first one is a combination of the fact that the recoil is almost purely vertical and that you can put an ACOG sight on it. We consider this to be too good of a combination, and the Pro League's players seemed to agree, given their loadout selections for Smoke and Sledge. The second reason is simply that it is a secondary weapon. We hope that this will strengthen its role as a secondary weapon, and lessen its use as a primary.